March 30, Baladna Farm Fun Day organized by Qatar Autism Society including fun for the whole family 
April 13, 5th Annual Fun Day by CDC with exciting activities provided by PlayBall Doha, Sensory Souk and information about the eye-tracking study by QBRI. Delicious food by Simply Southern. 
April 15, "Our Girls and Autism" talk by Kamila Janik, BCBA and Azza hosted by Qatar Autism Society at Aziziya Boutique Hotel 
Qatar Academy-Al Khor Autism Awareness event attended by Dr. Adrienne Robek 
April 20, Renad Academy community outreach Autism Awareness Event at Al Shaqab including a walk and fun activities
April 26/27, Ministry of Public Health conference on Autism with Dr. Adrienne Robek moderating a panel discussion and also presenting on Early Intervention. 
April 29, Qatar Foundation hosted an awareness discussion around autism, the National Autism Strategy, QCDC Interagency group for transitioning of students from education to adulthood with Founder and Advocate Hasna Nada as a panelist.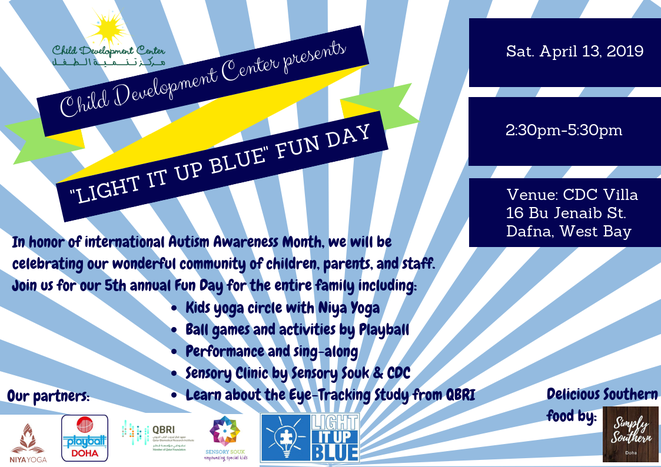 April 4, HBKU Workshop on "Supporting Individuals with Autism Spectrum Disorder using Technology-Based Interventions". Dr. Adrienne Robek presenting: "Digital PECS: An Effective Communication Tool for ASD"
April 14, Fun Day for Autism Awareness by CDC
April 21, Renad Academy Autism Awareness Event at Al Shaqab
April 23-25, GREAT Conference 2018 by MADA. Dr. Adrienne Robek presenting "Daily Living with ASD: A functional Approach". Kamila Janik, presenting "Planning for Success: Inclusive Education and Autism"  
Our Clinical Program Lead, Kamila Janik, BCBA, attended a training hosted by QBRI encompassing the administration of the Autism Diagnostic Observation Schedule – (ADOS-2) and the Autism Diagnostic Interview - Revised (ADI-R)
April 30, Qatar Airways Autism Awareness Seminar. Kamila Janik presented on "ASD-Making Sense of Challenging Behavior"